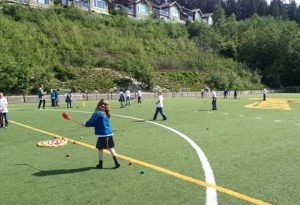 We were very fortunate to get invited as a celebrity guest speaker by one of our students at Collingwood School in West Vancouver.
The school is located on top of the mountain with a beautiful view. We arrived on time and received our student Aiden's warm welcome and assistance with our golf equipment. We were led to the classroom and introduced by Aiden.
The kids were so enthusiastic that almost everyone in the class raised their hand to share their golf experience.  As soon as they were told they were going to hit some balls in the field they couldn't wait to get out of the classroom.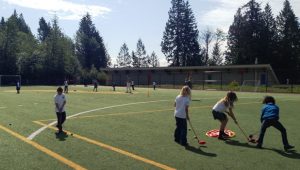 We broke the class into 3 groups – 1st and 2nd groups formed a circle for chipping /putting to a target in the middle, while the 3rd group formed a straight line for making a full swing.  We taught them how to grip, swing, chip and putt.  This colourful safety kids golf starter-snag golf system really got them excited and the kids showed tremendous amounts of interest hitting the balls. Once they hit the target, they wanted more…
The session ended in 45 minutes. We were very happy to come out to offer this clinic.
Golf has the ability instill strong core values…values such as honesty, good sportsmanship, and integrity.  The game relies heavily on the honor system.  By keeping your own score, children learn the importance of playing with integrity. Golf powers the brain and challenges the mind in terms of strategy, coordination and concentration.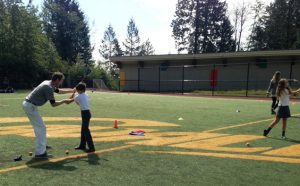 We'd be proud to be part of getting golf into the classrooms. It's a good way to introduce golf to the youngsters.
我们很幸运被在西温哥华科林伍德学校-我们的一个学生邀请作为名人演讲嘉宾。
学校坐落在美丽景色的山顶。我们准时到达学校并且得到我们学生艾登的热烈欢迎和热心帮助携带我们的高尔夫球具。经艾登的介绍到了教室。
同学们是如此的热情,几乎每个人都在课堂上争先举手来分享他们的高尔夫体验。当他们被告知将会在操场上打球的时候,他们就迫不及待地要走出教室。
我们将一个班分为3组 – 第一和第二组练习切杆/推杆,大家围成圆圈,目标设置于中间,而第3组形成一条直线作挥杆练习。
我们教小朋友如何握杆,挥杆,切杆,和推杆。颜色鲜艳小童安全高尔夫入门成套设备得到同学们的喜爱。孩子们对高球表现出很大的兴趣。一旦击中目标,他们想要打更多…
活动在45分钟后结束。我们非常高兴能参与并提供这个课堂高球活动。高尔夫球运动可以给小孩子灌输核心价值观: 如诚实,良好的体育道德,和完整性。球场比赛在很大程度上依赖诚信的。球员是自己计分的,孩子学习诚信的重要性。高尔夫球运动培养策略,身体协条功能以及高度专注。
我们很自豪能够让高尔夫球进入到学校课室的一份子。这是引进青少年高尔夫的一个有趣好方法。
on May, 02, 2016

Comments Off

on A Good & Fun Way to Introduce Golf To The Kids At Collingwood School 引进儿童青少年学高尔夫的一个有趣好方法