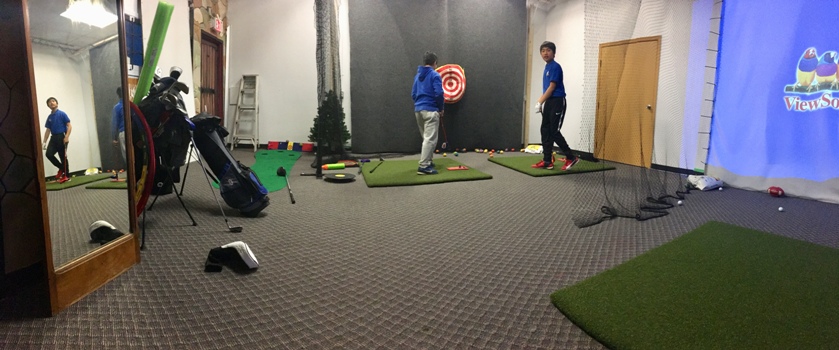 Matt Daniel indoor studio is an athletic minded golf facility where a student will be able to efficiently learn how to swing a golf club as well as learn to play golf. We have a huge supply of training aids and ideas to connect other sports movements to golf. Our high level golf coaches are trained in many other sports. This allows our coaches to introduce your child to a variety of sports outside of golf. We have done extensive research to make the connection from these other sports to golf. Many athletic motions from a multitude of sports have incredible similarities.


Due to the frigid Vancouver winter temperatures I have launched an indoor training feature to my academy. Indoor training analysis systems measure the behaviour of the golf ball upon impact and provide immediate feedback such as your ball flight, distance, ball speed, club head speed, spin, etc….. Golfers will have a unique learning experience. It enables you to have your own practice range, hit at simulated targets, play challenging games, such as closet to the pin and putting. Moreover, we can actually play a round at some famous golf courses from around the world. It is amazing technology. So you can have a playing lesson indoors-another alternative fun and effective way to learn and play golf.
At Matt Daniel's indoor facility we will explore a full realm of athletic motion and performance. Our coaches have all played world level tour golf.
马特丹尼室内工作室是一个体育运动达人的高尔夫练习场,学生能够有效地学习如何挥杆及高尔打高尔夫球。我们有大量的训练辅助仪器和方法将其他体育运动与高尔夫相联接起来。我们高水平的教练在许多其他运动项目中受过专业培练。介绍你的孩子高尔夫以外的各种体育运动。我们已经做了广泛的研究,让其他运动连接到高尔夫。因为许多体育运动都有令人难以置信的相似之处。
由于温哥华寒冷的冬季气温,我学院推出了室内培训设施及项目。室内训练分析系统可测量高尔夫球在撞击时的表现,并提供即时反馈,例如你的球飞行轨道,飞行距离,球速,球杆头速度,旋转等等…球手将享有独特的学习体验。你有自己的练习场,击中模拟目标,挑战性的游戏,例最靠进洞口及推杆游戏。而且,你还可以体验世界各地一些著名的高尔夫球场。这是惊人的技术。室内高尔夫是另一种有趣和有效的方式来学习和打高尔夫球。
在马特丹尼尔的室内高球设施,我们将探索一个完整的运动和表现领域。我们的教练们都打过世界级的高尔夫球比赛的。