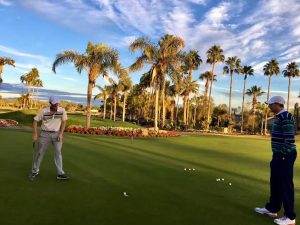 After a great year of coaching in 2016, I decided to go to Phoenix, Arizona and play a little golf.  I visited and played at a variety of golf courses, including The TPC of Scottsdale, ASU Karsten Golf course, The Phoenician Golf club, McCormick Ranch golf club, Grand Canyon University golf club and Troon North Golf club.   I met up with my old tournament friends and had a great match at Grand Canyon University. I chipped in on 18 for eagle to win the money. Haha (See my golf notes). It was great to rekindle the old competitive fire, even for just a day. It is amazing how much easier it's been to play good golf now that I'm not on tour. I suppose the simple answer is that it's just more fun. Or maybe, as I've got older, I appreciate the opportunity to play a round of golf.
Golf notes:
We played for some good stakes so that our nerves would be tested. So I had a game plan of focusing on being calm during each shot. Instead of focusing on some physical swing thought.
Vancouver Top golf Coach Matt Daniel played golf with 2 time PGA Tour Canada champion and Big Break TV Star Kent Eger at Grand Canyon University golf club in Phoenix Arizona. Matt chipped in on 18th hole to shoot 65.
温哥华顶级高尔夫球教练马特丹尼尔与2次PGA巡回加拿大冠军及电视明星肯特埃格在凤凰城的大峡谷大学高尔夫俱乐部同场竟技,马特切入18洞成绩65杆。