Matt Daniel is dedicated to helping shape the future of golf.
In the midst of a successful pro career, which has included playing on the PGA and web.com tours and winning the Telus Edmonton Open in 2002, the Richmond man is happily reaching out to the sport's next generation. But he's quick to appreciate that future may be quite different than what many initially envisioned.
Daniel believes the traditional game will continue to appeal to many youth, some of whom will go on to garner scholarships and, like himself, find their way onto the pro circuits. But others, he reasons, will shun such opportunities to enjoy the simple pleasures of the game.
"There's quite a debate these days," says Daniel, who is diligent in his efforts to introduce golf in local schools. "There are still plenty of 18-hole competitions, but you don't need to play 18. I want to see golf be appreciated as an activity, one that you can enjoy without being restrained by time."
That means, he continues, the opportunity—preferably on the same course—to play nine holes instead of 18.
"I know a lot of my friends are busy from 9 to 5, but they still want to play nine holes after work," he said. "And it's interesting to note that you can play nine one day and another nine on another day and have it officially count as 18."
At the grass-roots level, Daniel said it is critical that he and others with a vested interest in golf appreciate the many opportunities youth today are being bombarded by. Many of the students he teaches at his elite Richmond academy go from taking golf lessons to piano lessons, swimming lessons, or some other activities.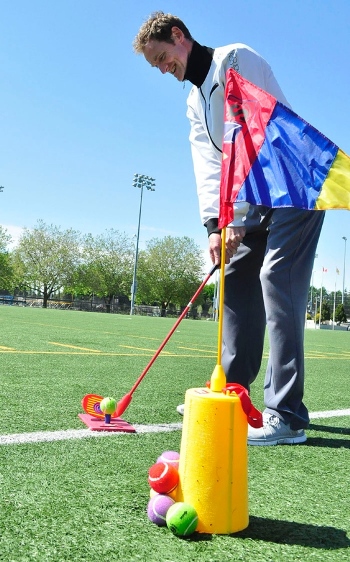 It was through the generosity of Christine Brodie and the Sunrise Rotary Club that Daniel was recently able to acquire a $2,000 kit to help introduce youth to golf. The colourful Snag (Starting New at Golf) kit features a pair of plastic clubs (the launcher is used to launch, pitch and chip the ball and the roller, like a putter, to roll the ball toward the target), which at up to three times the size of a normal club, makes it easy to make contact with the tennis-sized velcro balls that stick to a plastic flagstick (an above-ground weighted cylinder covered with a hook material).
Daniel said initial response to the kit was positive when he debuted it recently at Blundell Elementary School. He is planning a second clinic at Cook Elementary School in early June.
"It's a no-brainer to teach the kids how to use the gear and get golf into the classrooms," he said. "Once the kids started hitting the balls and the target you got the sense they wanted to play more. It's a good way to introduce them to golf."
Daniel's own introduction was much more traditional.
A natural athlete, Daniel had already shown a proficiency in ice hockey when his parents placed a golf club in his hands as a ninth birthday present. It didn't hurt that he lived across the street from Quilchena Golf & Counry Club, but he was instantly hooked and before long golf became the sport on which all his energies were focused.
"I guess I was pretty good right away," he admitted. "But Quilchena had a lot of good players that helped my learning curve. And it was fun."
Following a successful junior career, Daniel attended College of the Desert in Palm Desert, Calif. allowing him to stay at his grandma's house and play golf every day. He turned pro in 1998 and a month later earned his Canadian Tour Pro card, finishing as the low Canadian. After missing the first 10 cuts of his pro career, his dogged determination ensured he became a mainstay on the tour. His victory at the Edmonton Open in 2002 is still regarded as one of the great finishes in Canadian Tour history. Shooting rounds of 67 and 66 over the first 36 holes, Daniel exchanged birdies with PGA Tour player Alex Rocha in the last group Saturday and took the lead heading into Sunday's final 18. Clinging to a one-shot lead over Rocha and Stuart Anderson with two holes to play, he birdied both the 17th and 18th to set up a playoff and won the tournament on the first playoff hole.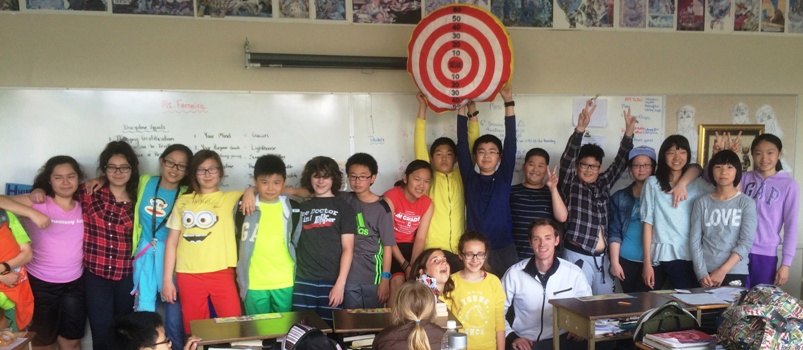 on May, 23, 2015

Comments Off

on Richmond Review – Pro providing link to golf's future Matt Daniel is giving back by introducing the game to youth through schools-based program 列志文评论报 (体育)专业球手提供链接到高尔夫的未来。马特•丹尼尔回馈社会 – 通过简单而有趣的在校高尔夫项目方式培养青少年儿童对高球的认识及兴趣